Indian Rupee at lifetime low against dollar; check today's price
Facebook
Google+
Twitter
Reddit
Flipboard
Email
WhatsApp New Delhi : Indian Rupee has depreciated significantly against the US dollar; on Monday it plunged down to 72.67, losing 94 paise from the previous closing mark. With continuous decrease, the effect can mainly be seen on the oil prices, resulting in hike fuel cost in the country.
However, the relief is that the depreciation has mainly occurred against the US dollar while the value of Indian Rupee has actually appreciated against other country currencies.
According to a report by the Times of India, if one compares the exchange rate over a five-year period, it works out that the rupee has appreciated against most currencies.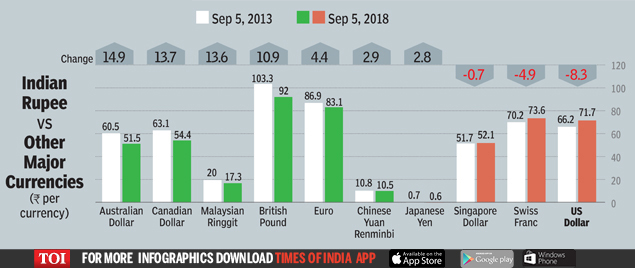 (Image: Times of India)
Indian government has been claiming that there is no reason to worry about falling rupee value as it is in line with the other currencies. The fall in the value is due to many external factors.