Malaika Arora finds Arjun Kapoor's picture 'hot', fuels dating rumours
Facebook
Twitter
Reddit
Flipboard
Email
WhatsApp
New Delhi : Malaika Arora and Arjun Kapoor's relationship is one of the most rousing news people are waiting to hear; based on the speculations they have been an alleged B-Town couple of future days.
Adding fuel to the rumours is a comment posted by Malaika Arora Khan on Arjun Kapoor's recently shared picture on social media platform Instagram.
On the occasion of Halloween, Arjun Kapoor shared a fan-made picture of him in a spooky avatar; Malaika Arora found it to be really hot as she commented on it with a fire sign. Check out the image and comment below: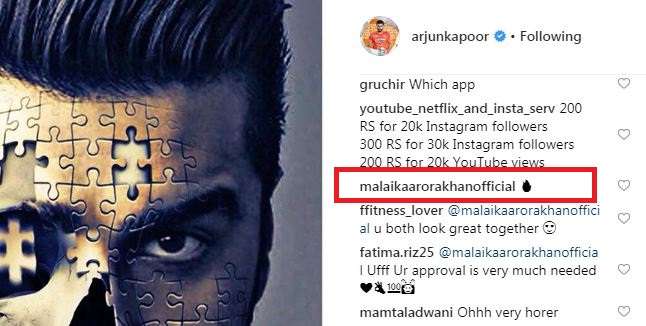 According to the buzzing news reports, the actors have been dating each other for a while now. They were recently spotted walking hand in hand on a TV show; also the two were spotted walking out of an airport hinting they were out on a vacation to spend some quality time together.
A Filmfare report recently claimed that Arjun Kapoor and Malaika Arora are tying the knot next year. However, a close friend of the actress shunned the reports and denied all such speculations about their marriage.
Malaika Arora parted her ways from Arbaaz Khan in 2016, she had tied knot with him in 1998. Arbaaz Khan, on the other hand, is dating a model named Giorgio Adriani.