BP Dakshayani: An Indian woman who cooked food, sent spacecraft to Mars Orbit
Facebook
Twitter
Reddit
Flipboard
Email
WhatsApp
New Delhi : Women these days are doing things which most of us did not even imagine a couple of decades back, including sending rockets into the space. BP Dakshayani is one of those women who managed her household duties and also placed a spacecraft into the Mars orbit with the help of her team, better known as 'Rocket Women'.
Four years ago a picture of women celebrating the successful entry of an Indian spacecraft into Mars orbit showed key role of women in the event. One of the women in the picture is BP Dakshayani.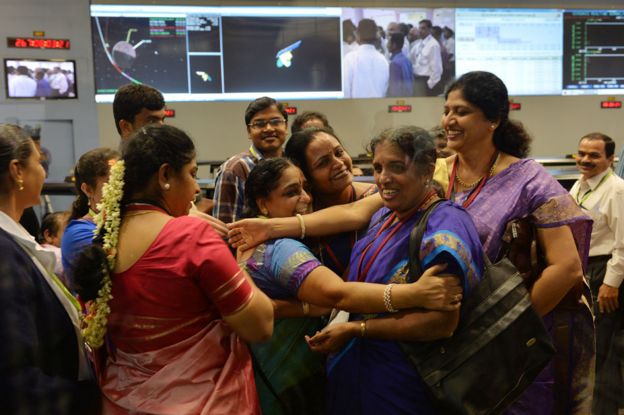 (Image: BBC)
She was leading the team that kept an eye on each and every movement of the spacecraft till it was successfully placed on the Mars orbit.
A news report by BBC, quoted one of her female colleagues as saying that the event was like hitting a golf ball in India and expecting it to go into a hole in Los Angeles - a hole, moreover, that was constantly moving.
For Indian women, the tough job got tougher with their commitment towards the family. Back then when she was a young girl and was aspiring to become something, she got a lot of support from her father, an accountant by profession.
She was the first woman to get graduate degree from Bhadravati, a town in the southern state of Karnataka. Her father wanted her to pursue graduation, which was a rare thing for women in that time.
After completing BSc, her father asked her to settle down but she had bigger dreams of doing a Master's degree. She initially took up teaching job and one day saw an advertisement in the newspaper about opening in ISRO. She applied and got hired.
The real struggle
The main troubles started after she got a formal dream job. She had to go home give extra efforts to understand the dynamics and as well as look after her family's basic need of food and shelter. She was married within a year of her job at ISRO, leading her to more responsibilities.
At the office, she did complex calculations and computer programming to guide satellites. At home, she looked after her large family that included her parents-in-law, her husband's five siblings and within a few years - their own two children.
"I used to get up around 5am because I had to cook for seven, eight people and it was not easy," she says." Also, our food habits are such that we need chapatis (hand-made bread) which take time to make. So I would cook for the whole family and then come to office."
Despite tough conditions, she refused to give up and made India proud with her sheer dedication. We salute all such great women in India for their unending dedication for her job.