ICC World Cup 2019: This is how Pakistan will not qualify for the semi-finals
Facebook
Twitter
Reddit
Flipboard
Email
WhatsApp
London : With India beating Bangladesh and England beating New Zealand, the chances for Pakistan to qualify for the ICC World Cup semi-finals have become near to impossible.
After 1992, this is the first time England have placed themselves in the semi-finals with a dominant 119-run win over New Zealand in Chester-le-Street on Wednesday. The team completed its fight on the third spot with 12 points in 9 games.Before them are India and Australia on 2nd and 1st spot respectively.
Check out the ICC world cup 2019 points table below first: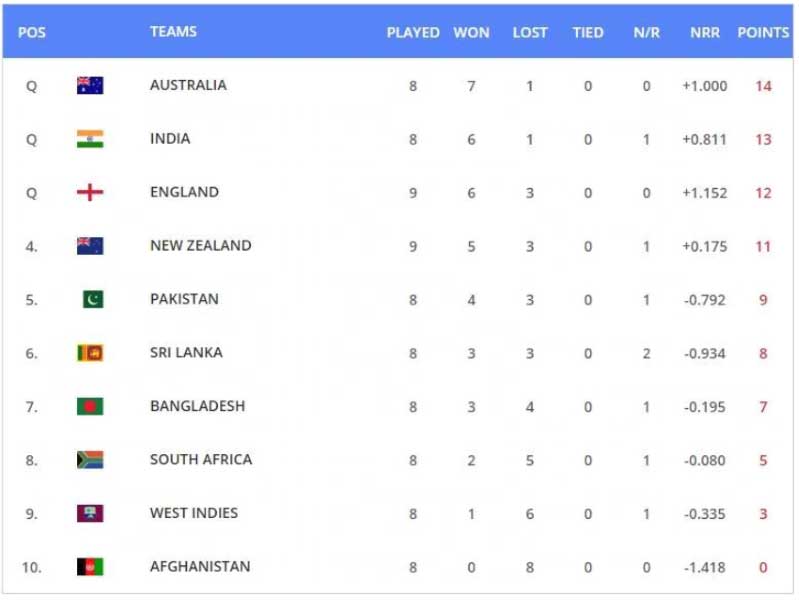 On what conditions Pakistan will make it to semi-finals
Matches to play: Bangladesh on July 5 at Lord's in London.
Pakistan are all but out of the semi-final race.
Pakistan are placed 5th with 9 points from 8 matches. They have a negative net run rate of -0.792 while New Zealand who are sitting 4th with 11 points from 9 matches have a positive net run rate of +0.175 even after their loss to England.
For Pakistan to qualify to the semi-final
Pakistan to beat Bangladesh by 311 runs after posting 350
or
beat Bangladesh by 316 runs after scoring 400
or
beat Bangladesh by 321 runs after scoring 450
If Pakistan bowl first, they will be out of the semi-final race even before the first ball is bowled at Lord's on Friday.
New Zealand
Matches to play:
None New Zealand can qualify if Bangladesh beat Pakistan on Friday. They will also qualify if Bangladesh lose by a lesser margin than the ones mentioned in the scenarios above.