People fight rain to welcome Rahul Gandhi in Wayanad
Facebook
Twitter
Reddit
Flipboard
Email
WhatsApp
Wayanad : Congress President greeted people on his three-day visit to Wayanad. He had won the Lok Sabha Election 2019 from the seat by over 1 lakh votes.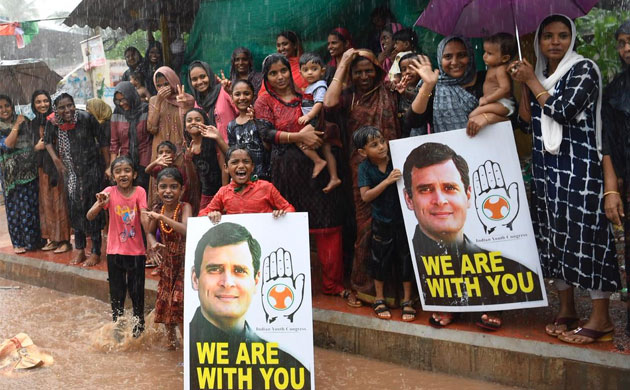 Braving heavy rains, Congress chief Rahul Gandhi took out a roadshow in Wayanad Lok Sabha constituency on Friday, thanking voters for electing him with a massive majority.

Thousands, including women and children, overcame the downpour to catch a glimpse of Rahul Gandhi who arrived in the high range constituency on a three-day tour for the ceremonial thanksgiving to the electorate.

This is the first time that the AICC chief is visiting his constituency after he was voted to the Lok Sabha with a majority of about 4.31 lakh votes.

A large number of people could be seen patiently waiting for hours for Gandhi on either side of the water-logged roads and on the terrace and balconies of nearby buildings to welcome their new MP.

The roadshow put the security personnel in a tizzy as Kalikavu is considered to be a naxal-infested area.