Meiraj Haq's stunning Dance performance
Facebook
Twitter
Reddit
Flipboard
Email
WhatsApp
New Delhi : Meiraj Haq is a great Pakistani Drama Series actor, YouTube vlogger, the maker of the documentary about the life of Pakistani Prime Minister Imran Khan and a great Cryptocurrency guide! Recently, Usman Mukhtar got married to Zunaira Inam Khan. Usman Mukhtar was the lead actor in the drama series "Sabaat" where he worked with Meiraj Haq who played the character of Dr. Murad in the drama series.

However, many famous actors and celebrities were invited to the wedding ceremony of Usman Mukhtar. In the list of these invited celebrities and close friends of Usman Mukhtar, Meiraj Haq, Osman Khalid Butt and Ahmed Ali Akbar were included too who danced pretty crazy in the ceremony.

All the Pakistani showbiz viewers and fans have been familiar with the dancing talent of Osman Khalid Butt, however, the stunning performance by Meiraj Haq was a fire on the stage and the fans enjoyed that alot.

Different songs were played during the dance performance by Meiraj Haq, Osman Khalid Butt and Ahmed Ali Akbar. Famous beat song "BALA" from the movie "Housefull 3" was played first during the dance performance.

Some coordination from the steps was missing but overall they put a lot of fire on stage while dancing. There was a dress code among dancers like a costume in different dance shows. They were all dressed in black salwar kameez dress code, and you know very well Pakistani boys rock fire and look stunningly hot in black salwar kameez.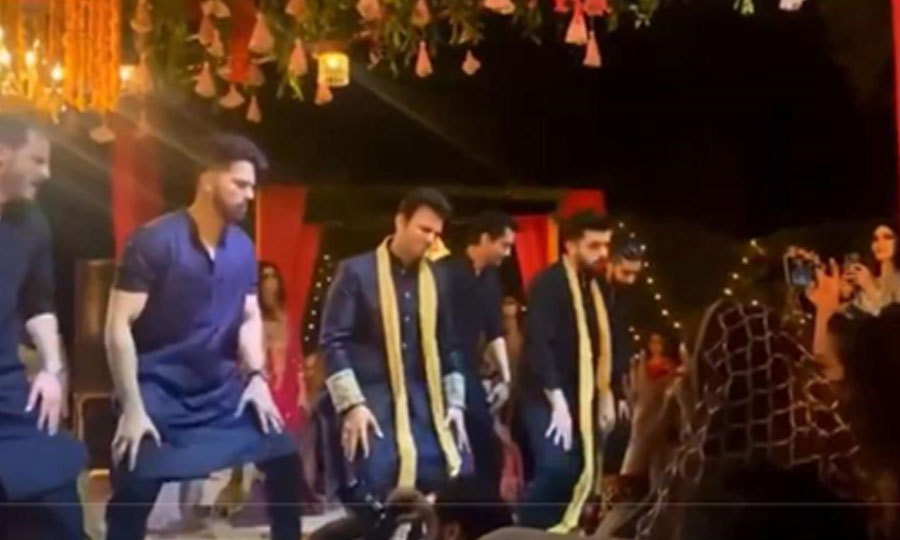 Shalwar kameez is our national dressing and it keeps us in touch with our own culture and civilization. Growing up, sometimes, it feels like overloaded with different kinds of dresses as options to wear for different occasions. But Shalwar Kameez is an evergreen dress code which can never be nulled by any other types of dresses that one can wear to formal occasions.

Couples danced on this occasion too. Usman Mukhtar danced with his newly wedded wife Zunaira Inam Khan. We have seen different talents of Meiraj Haq like his vlogging skills from his YouTube career, his directing skills from the documentary he made about the life of Imran Khan, his acting skills from the drama series "Sabaat" in which he played the character of Dr. Murad and now we have also seen him putting fire on stage with his stunning dance performance with Osman Khalid Butt and Ahmed Ali Akbar on the wedding occasion of Usman Mukhtar and Zunaira Inam Khan.

This famous Pakistani talented Actor is not just an actor. He is a Crypto expert too who happens to guide people who are newcomers to the world of Cryptocurrency and still have no idea where to start, where to invest, which coin to use, the strategy they should follow and how long should they make profit and take their profit out before getting too greedy.

This guy is kind of an overall package of talents. I think at this point in our lives, we don't know fully yet what good we can bring to this world. So, Meiraj Haq will keep uncovering his hidden skills just like rest of us.